North Bali Tour
Intinerary :
Buyan Lake
Ulundanu Temple
Handara Gate
Wana Giri Hidden Hill


Buyan Lake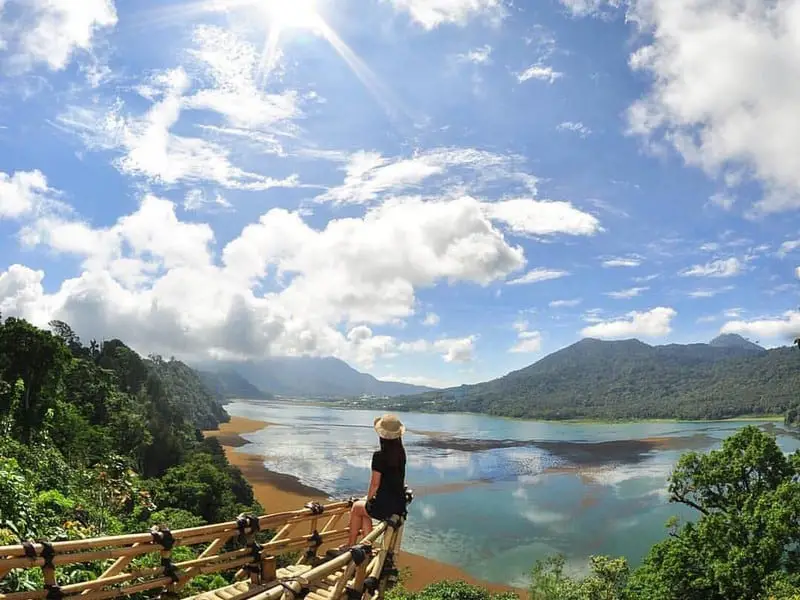 Buyan Lake is a smallest lake in Bali located just a next door of Tamblingan Lake. Hence, this lake is also called by Bali Twin Lake. This lake is located in the plateau area with cool weather cover it. Furthermore, Buyan Lake is situated in the high land with hill and rain forest surrounds it. Since the location in the plateau area, the fog is usually blanketing the area. This lake can be seen from the top of hill which is called Asah Gobleg. Asah Gobleg it self is the name of the countryside located on the top of hill where the villager with agriculture life on top of it.
Ulundanu Temple
Bali Ulun Danu Beratan Temple is a temple dedicated to the goddess of the lake is Ida Batari Dewi Ulun Danu on the edge of a huge crater. The dominant shrines are Meru's (pagodas) dedicated to the lake goddess and the gods of Mount Batur and Mount Gunung Agung, the largest volcano in Bali. The temple was built in the 17th century in worship of the main Hindu trinity, Brahma-Vishnu-Shiva, as well as the lake goddess, Dewi Danu. The sight and cool atmosphere of the Bali uplands have made the lake and this temple a favourite sightseeing and recreational spot as well as a frequently photographed site. Ulun Danu Beratan Temple, literally 'the source temple of Lake Beratan', is easily the island's most iconic sanctuary sharing the scenic qualities with the seaside temples of Uluwatu Temple and Tanah Lot Temple. The smooth reflective surface of the lake surrounding most of the temple's base creates a unique floating impression, while the mountain range of the Bedugul region encircling the lake provides the temple with a scenic backdrop.
Handara Gate
Bali Handara Gate is one of the most Instagrammed spot on the island. It's become a must-visit place among tourists and photography lover.Handara Gate is actually the entrance to a golf resort. The traditional Hindu gate symbolises the entrance from the outer world to the temple, or in this case, golf course, and plays an important role in Indonesian culture, particularly in Bali.
Wana Giri Hidden Hill
Wanagiri Hidden Hills Buleleng is a new tourist attraction that is now increasingly popular. Now this tourist area is increasingly crowded by young people, especially those who like selfie. Because there are many instagramable spots.The location of Instagram photos has many photo spots. The most popular photo spots are ship-shaped platforms. You can take pictures like popular poses in the Titanic movie. Your photos against the background of Lake Buyan will add to your artistic photos.